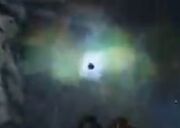 The Anthem of Creation (often simply called "the Anthem") is a powerful force that exists within the world.[1]
The Anthem permeates everything, and can be channeled.[2] The Shapers used it through their relics to create the world.[1] The relics can tap into "echoes" of this force.[3] Pieces of 'radiant energy' exist as part of these relics (and can be separated from them), that are 'echoes' of the Anthem of Creation.[4]
At times, the Anthem 'bubbles over,' leading to catastrophe.[5] According to The Monitor, the Anthem has destroyed entire civilizations.[6]
Among humans, the Anthem is known to exist, but none understand how it works. There are a few who try and study it, namely the Archanists. There are also those who try to harness it and capture it into weaponry;[2] the Dominion, for instance, is currently attempting to harness it as a weapon.[7] In this, they succeeded to a point through the development of the Storm Javelin, which taps into the raw power of the Anthem, boosting the kinetic abilities of its pilot, and unleashing the raw fury of the Anthem as a weapon.[8]
References
Edit