"This wasn't just four or five insects! This was thousands! An entire colony working together to make arms and legs! To be PEOPLE!"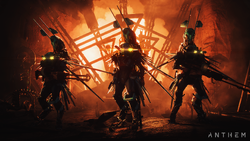 The Scars are one of the four main enemy factions of Anthem.
"Created by chaos,"[1] the Scars are a relentless[2] invasive force, not native to the world that humanity calls home.[3] They arrived on the world via Shaper technology,[4] with whom they have a mysterious connection.[5] They can deploy via red portals hovering above the ground, appearing in flashes of light.[6] While not technically alien, they aren't human either,[7] and can't even be considered to be humanoid[4] (in actual fact, they're insectoid). However, they did try to emulate humans in taking the form they did.[1] They appear to converse in a gutteral language.[2]
The Scars are currently in conflict with the Freelancers,[5] as they are trying to retrieve Shaper technology (an action the Freelancers are opposed to).[3]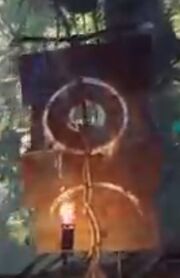 Equipment
Edit
From a gameplay standpoint, the Scars are the "baseline enemies" of Anthem.[4] Their motivations and reason for battling the Freelancers will be revealed over the course of the game.[1]
References
Edit